Half the Size-twice the Power, enjoy the special  formula, all Royal Army Chocolate Bars contain guarana. This is a long lasting caffeine booster. The real  energy bar for body and mind.
Warning: Do not give this chocolate to children and don't eat it at nighttime.
Royal Army does not melt in your pocket. The  chocolate keeps  solid until 30 Celsius. The reason is that this chocolate is only made of skimmed powder.
Crunchy and premium, mostly used as breakfast bar as it contain cereals and flakes.
ROYAL ARMY MILK
The only Royal Chocolate with skimmed milk and Guarana, Caffeinated milk-chocolate with Corn Flakes 50g bar with the same caffeine like a strong coffee Mostly given to officer 36% Cacao.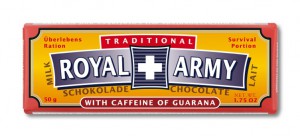 ROYAL ARMY WHITE
A special Gourmet Bar with Guarana and 10% natural Coconut Crisp. Sweet and mild 50g bar with the same caffeine like a strong coffee.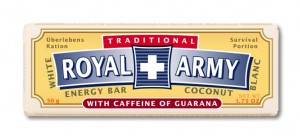 ROYAL ARMY DARK
The dark Army Chocolate with Guarana and cornflakes. 55% Cacao. The first and most given chocolate to the royal soldiers. 50g bar with the same caiffeine like a strong coffee.